Dowser's dedicated Spring Water Tanker trucks transport the spring water to our bottling facility in Newburgh, NY. From here we distribute our water to homes and businesses throughout the Hudson Valley.
The Shawangunk Spring is a protected site since 1987 located at the base of the Shawangunk Ridge.  The Open Space Institute along with the NYS Parks system has preserved over 21,000 acres of land dedicated to being "Forever Wild."  These are the protected lands bordering our spring site assuring Dowser's purity for generations to come.
In order to preserve the natural quality of Dowser Spring Water, we ozonate, UV and filter our water into our tankers.  Our water is once again filtered and ozonated before it enters our bottles.  Ozone, or O3 converts back to O2 (the air we breath) within a few hours from bottling.
Dowser Spring Water meets all applicable Federal and NY State health standards (NYS Dept of Health certificate #135).  In addition, we test our water daily by an outside water testing facility for quality and product protection.  Our bottles are placed in a holding area until our QC/NY State results are obtained.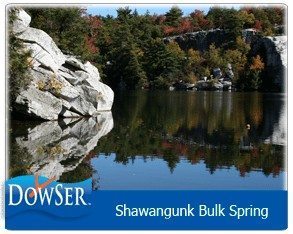 To meet the growing demand for pure, healthy liquid refreshment, Pepsi Cola of the Hudson Valley introduced Dowser Spring Water in May of 1997.  Almost immediately, our 16.9 oz bottles began flying off the shelves.  The business soon expanded into 20 oz. bottles, 24 oz. sport cap and 1 liter packages.  Over the next several years as business and demand increased for Dowser's "Divine Refreshment" it seemed only natural to expand into the home and office business.  As a result, in July of 2003 Pepsi Cola of the Hudson Valley purchased the Big Indian Water Company of Poughkeepsie, NY.
Renaming the company Dowser we began to grow our distribution throughout the Hudson Valley and expand our coffee and cold beverage service to our customers.  Four years later, in July of 2007, Dowser completed construction on our new bottling facility and moved back home to Newburgh, NY with our Pepsi family.  Over the years Dowser has expanded our product line to include Gourmet Coffee Brands such as Green Mountain Lacas Coffee Co., and Baronet Coffee.  We continually partner with Pepsi Cola of the Hudson Valley to provide total beverage and vending services for our customers.  We also partner with other companies and bottle additional spring water labels.
Our commitment to excellence and quality keeps us growing our home products, our office products, and services in the Hudson Valley.
Since ancient Egypt and Rome, a dowser's sensitive touch on the divining rod has been the key to finding the purest water. Dowser Pure honors that tradition. Dowser Pure's highly sophisticated multiple step Aqua-Purification system takes out many substances that others leave in the bottle. Dowser Pure is just that…pure, clear, great-tasting refreshment.
We're proud to show you what our customers tell us.
I am the Director of Facilities and Purchasing for a large care facility in Dutchess County New York. We have multiple locations and we have been a Dowser customer for 3 years. I have to say Dowser is a maintenance free contract due to prompt service, competitive prices and quality products. I recommend them to all of my business associates.
– M.H., Poughkeepsie
I have been a customer for years, … and I received my water delivery this morning. I wanted to bring to your attention the driver who went above and beyond his responsibility. He not only delivered the water he brought them into my garage and put them in the area where we store our water. This was completely his own initiative and with no one around. When I left for work I was so pleasantly surprised that I wanted to let you know what a great employee you have.
Well done and thank you!
– Fiona Santoianni
Director of Media and Public Relations
Mid-Hudson Subaru
We have well water and while everything has tested ok, there is a sulfur smell that makes it unappealing to drink. I called Dowser and ordered a water cooler and 5 gallon bottles and was set up on a monthly delivery service. The Dowser operators are friendly and efficient and I like that if I need other beverages, such as Gatorade and Lipton Teas, they can deliver it to my home as well. Thank you Dowser!
– D.H., Newburgh, NY
Submit Your Testimonial